NEW PLACE for Congress Dinner!
Registration re-opened for the Congress Dinner, now at Casa do Alentejo!
Due to the great demand we had for the Congress dinner, we decided to change the venue and reopen registration.
Sign up now until June 30th!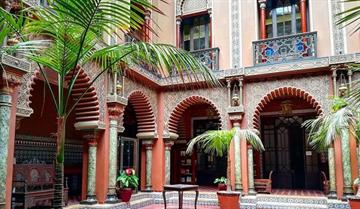 Anyone who passes close to the coliseum, dodging the waiters with menu in hand, has no idea that that facade hides one of the most interesting buildings in Lisbon. And when you enter the door and climb the stairs, you can't even believe that you're suddenly in an Arab courtyard of a Moroccan rihad, with the bathrooms looking like they came out of an opera house and the vegetation of a tropical country.
You go up another staircase, this time quite imposing, and feel free to discover room after room. Some look like they came out of Versailles, others are lined with old tiles, one has billiards and green cloth tables, souvenirs of the old casino that brought luck to many unlucky people here, and then there is a library and even a small São Carlos (theatre) stage.
Nowadays
Casa do Alentejo is used for everything from photo shoots to recitals, but also offers a restaurant and tavern.
With this interesting setting as the backdrop, we are looking forward to a friendly get together and meal to celebrate the Congress!
Address:
Rua das Portas de Santo Antão 58 (Rossio/Restauradores)